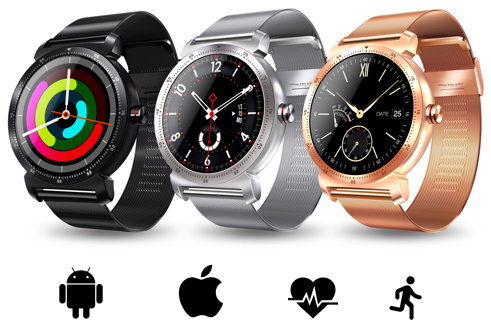 Compatible with both Android and iPhone | Heart Rate Measurement | Pedometer
What to Expect from a K88H Plus Smart Watch – Full Specifications
The K88H smart watch has an outstanding look and design. Their round display is decorated with thin metal frames that are sleek and quality workmanship. In addition, you have 3 color options and especially in gold or space gray style are beautiful.
With the K88H smart watch, you can answer every call and communicate via the built-in microphone and speaker. You'll appreciate it especially in the car and where you can't take your mobile friend.
The K88H smart watch notifies you of every SMS, notification from Messenger, WhatsAppu, every email and notifications from other applications.
The K88H will let you know when you lose your phone.
They even have a built-in gesture sensor. With a short movement you can turn on your smart watch or pick up your phone or reply to an SMS.
It will also measure the mileage, time. You can use a dictaphone or a calculator with a calendar and of course an alarm clock.
The K88H works with every Android phone and all iPhones!
Functions
Ability to answer and answer incoming calls (built-in microphone and loudspeaker)
Handsfree option (call via smart watch)
Notifications when receiving SMS and notifications (SMS, Messenger, Whatsapp, etc.)
Bluetooth 4.0
Stopwatch
Alarm clock
Playing music
Contact library
Call history records
Vibration
Send a message
Possibility to take a photo from the watch
Pedometer, caloric output, distance calculation
Heart rate measurement
Sleep monitor (time measurement in hard and soft sleep)
Alarm against theft of mobile and smart watches
Sedentary reminder (for long sessions, it notifies you to stretch or walk)
Siri voice control
Calendar
Dictaphone
Built-in gesture sensor
Email synchronization
Battery
Charging time

: 2 hours

Standby time

: Up to 7 days

Battery life in working mode

: 2-5 days

Capacity

: 300 mAh
Dimensions
Length

: 52 mm

Width

: 43 mm

Thickness

: 11.8 mm

Tape length

: 202 mm
Display
Size

: 1.3 inches

Resolution

: 240 x 240 pixels
Processor, ROM
Processor

: MTK2502C ARM7
ROM: 128MB + 64MB
Compatibility
With all iOS and Android devices
Resistance and water resistance
IP66 resistance
Waterproof (Rain, water injection etc. is no problem. Swimming and bathing, etc. is no longer recommended)
More information
Material

: Stainless steel with leather or metal strap

Language

: English, most features translated. Knowledge of another language
is not necessary.

Tape color

: leather brown and black, metallic gold, silver and black

Watch color

: black, gold, silver

Tape replacement

: Yes

Weight

: 75 g

Visibility in the sun

: 8 out of 10
6

dial faces
Package contents
Smart watch
USB cable with charging pins
Manual